Case Study: Jewel of the Creek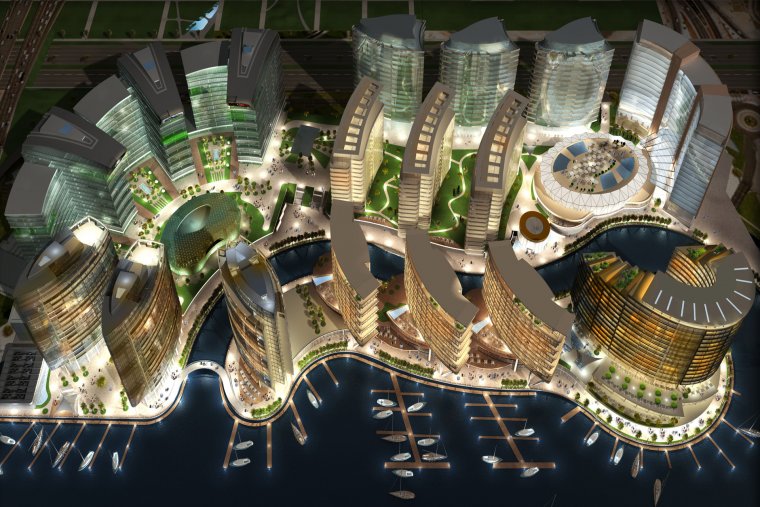 The Jewel of the Creek, a huge mixed-use development project is being developed at Port Saeed and already seems to transform the location to a vibrant urban centre. The project is located adjacent to the Dubai Creek Golf Club and near Dubai International Airport. The vision of Dubai International Real Estate is to create a project of strong identification, a complex as a unit unparalleled along the Creek with functions linked to each other yet each part of the development with its own expression and values.
The project incorporates mix of residential, commercial, hospitality and recreational use and has to offer a vast range of unique features: inner creek with promenade, man-made island with car-free ground floor, longest swimming pool in Dubai and many others.
What exactly is there? The promising development comprises of multiple buildings such as an Office Tower, 6 Residential Towers & a 2 Towers Superior Hotel Apartment building with a total built-up area of approximately 4 million square feet.
The Residential & Hospitality towers offer a range of homes including studios, one-bedrooms, two-bedrooms, three bedrooms and a select number of penthouses. On the other hand, the Office tower provides the business potential of the area along with multiple F&B and Retail areas that faces both the inner creek and the massive landscaped area.
The project will also be provided with a 4 level clubhouse with nursery, spas, numerous gym & infinity pools in addition to a large convention center that will cater various events in the future.
AGC Obeikan took part in creation of this architectural miracle using Stopray Blue Ace-30T, Stopray Smart 30, Stopray Vision-72T and iplus Solid glass.